What is ChemiProject?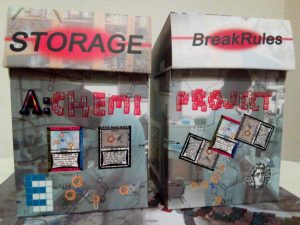 It is a educational game with high content in chemistry. Perfect for teaching some chemistry concepts to students with different levels of training.
Didactic strategies
The main idea is that players have fun.  The chances of winning are increased by the fact that each card has some scientific information that will be useful to the players.
High content of organic chemistry-
This board game consists of a wide variety of different cards. Each card represents a particular molecule. For example, glutaric acid, glucose or formaldehyde. Each of these cards has a defined structure that brings great educational value. Consisting of: Functional groups, description and molecular formula.
Functional groups are the axis of organic chemistry and are those structures within an organic molecule that endow it with certain properties. In this didactic game, the functional groups are limited to talking about the chemical reactivity, specifically on the reactions of addition.
In short, the game teaches, through a simplified model of organic chemistry the actual reactivity of each chemical compound.
Chemical description.
In fact, each card contains a small chemical description of the molecule that represents.  Broadening the student's knowledge.
The chemical structure is well-defined in the image of the card. Which tries to be colorful, attractive and to keep some kind of relationship with their uses.  Most importantly, all functional groups are remarked and colored to be intuitive to assimilate.
Game for future scientists!
There are game methods for children over the age of 6.  Although the official method is for children of 12. The game shows advanced concepts on science and the target audience, is students passionate about science, high school.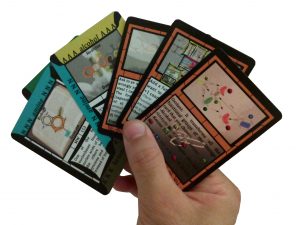 There are many ways to play ChemiProject. This type of information is found in both  English and Spanish, in our blog. Even we have video tutorials.